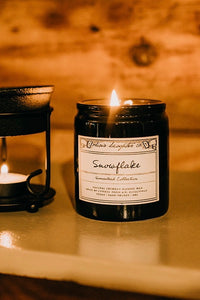 Through cold glass, snow falls on the woods surrounding the cabin, covering everything in bright white snowflakes.

With the scents of Cypress, Fresh Air, and Eucalyptus, for a walk down the trail through the woods while newly fallen snow crunches under foot and fresh air fills your lungs. 

All candles are handcrafted with crackling wood-wicks, phthalate free scent moods, all natural coconut blended wax, and 60+ hour burn time. 

 Vegan | Hand-poured | 8oz wax 
homestead collection