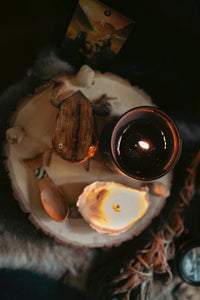 Berserker warriors were those who were said to have fought in a trance-like fury, a characteristic which later gave rise to the modern English word berserk (meaning "furiously violent or out of control").
Our Berserker candle is inspired by their brutal warrior spirit with notes of leather, smoke, + fire.
—
Vessel: Matte black 
Volume: 10oz
Burn Time: 60+ hrs
All candles are handcrafted with crackling wood-wicks, phthalate free scent moods using a mixture of fragrance + essential oils, and all natural coconut blended wax.

Our candlelight is ritually hand-poured + packaged in small batches in North Carolina.

Vegan | Hand-poured | Small Batch | Bestselling Ritual Collection
Please note: *As of 7/18/23, the design of this candle has changed to black shimmer wax, custom cut wood-wicks, with an intuitively chosen rune crystal.* New vessels as of 9/8/23, black matte w/ black interior.