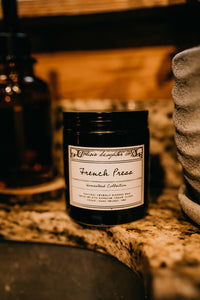 Watch the squirrels hunt for food while the birds fly from snow covered branches while you enjoy the  best part of the morning.

We bring the scents from our own french press into your home with Rich Espresso, Cream and Sugar to get your day started or put the perfect ending to your evening.
All candles are handcrafted with crackling wood-wicks, phthalate free scent moods, all natural coconut blended wax, and 60+ hour burn time. 
 Vegan | Hand-poured | 8oz wax 
homestead collection