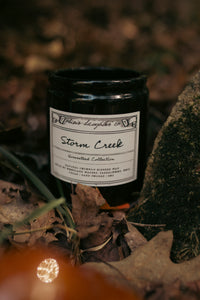 Whenever it rains, a path of water forms that flows through the woods. It is incredibly soothing to put on your rubbers and walk the moss covered rocks of our creek until you find the waterfall, a perfect place to rest and recharge. Join us on our walk with your very own part of our property in our Storm Creek candlelight.
Scent Profile: Woodland waters, Sandalwood, Moss
 —
Vessel: Black Ceramic
Lid: Black metal
Volume: 8 oz / 226.8g
Burn Time: 60+ hrs
All candles are handcrafted with crackling wood-wicks, phthalate free scent moods using a mixture of fragrance + essential oils, and all natural coconut blended wax.
Our candlelight is ritually hand-poured + packaged in small batches in North Carolina.
Vegan | Hand-poured | Small Batch | Spring/Summer Homestead Collection
Smells better than expected
I wasn't sure how it would smell with moss being one of the key notes...but smells better than expected.. actually makes you feel like you are by a creek during a storm but yet it's comforting