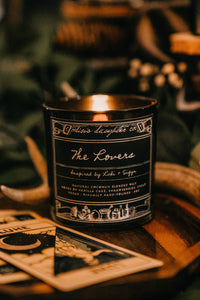 After Loki was banished by the gods, he was placed in chains in a realm of torment. A snake rested above him with its acidic venom dripping on his face, causing him great pain. His wife Sigyn, left the life she knew as one of the Aesir to hold a bowl over him, catching the venom and easing his pain. She will do this for all time, until he is freed. 
Though their story is not all roses, they are the quintessential "ride or die" couple of the North. We feel we have captured their love to honor them with this offering in shimmering red wax, and notes of vanilla cake, strawberries, + cream.
Pick yours up today for your special someone, +/or a gift of self love. 

—
Vessel: Matte black 
Volume: 10oz
Burn Time: 60+ hrs
All candles are handcrafted with crackling wood-wicks, phthalate free scent moods using a mixture of fragrance + essential oils, and all natural coconut blended wax.

Our candlelight is ritually hand-poured + packaged in small batches in North Carolina.

Vegan | Hand-poured | Small Batch | Bestselling Ritual Collection
Please note: *As of 7/18/23, the design of this candle has changed to black shimmer wax, custom cut wood-wicks, with an intuitively chosen rune crystal inside.* New vessels as of 9/8/23, black matte w/ black interior.