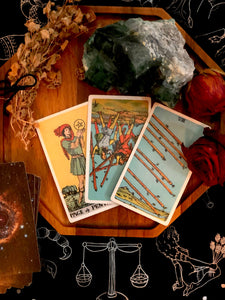 Discover where your life is headed and the possibilities that await with our three card tarot reading. Examine how to approach obstacles and how to protect yourself from dangers. This reading will give you an in depth look at where you are headed and what you will need for the circumstances that present themselves.
More info about our readings:
*No added information is needed to perform readings, the cards will talk with just your name on file. Cards used will vary, as they are our readers choice that calls to them for you. Readings will be sent via email when completed.