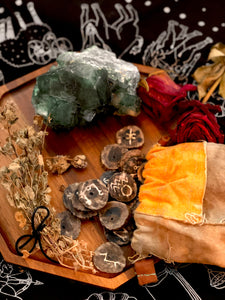 Using runes that were created by a cult of Diana, we take a look at what message the gods have for you. Readings include such things as if the gods are protecting you, if you will see health and wealth, if someone is sending something negative your way, or even if the fates are heavily involved in your life. We are currently one of the only shops with a reader that reads these runes publicly, making this three Italian rune reading extra special. A bind rune of your pull to carry with you is available for an extra $10.

More info about our readings:
*No added information is needed to perform readings, the cards will talk with just your name on file. Readings will be sent via email when completed.