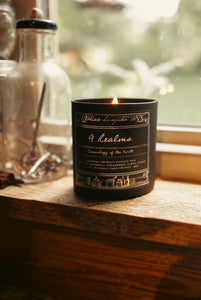 9 REALMS, Cosmology of the North. Walk amongst giants, pour mead with the fallen. Learn from the elves, and speak to the gods. Light your candle + go on a journey with us...
Scented with dragon's blood; a resin harvested with a sweet, spicy, and earthy tone to encapsulate the essence of all the realms.
Scent profile: patchouli, cedarwood, orange, clove. 
 —
Vessel: Matte black 
Volume: 10oz
Burn Time: 60+ hrs
All candles are handcrafted with crackling wood-wicks, phthalate free scent moods using a mixture of fragrance + essential oils, and all natural coconut blended wax.
Our candlelight is ritually hand-poured + packaged in small batches in North Carolina.
Vegan | Hand-poured | Small Batch | Bestselling Ritual Collection
Please note: *As of 7/18/23, the design of this candle has changed to black shimmer wax, custom cut wood-wicks, with an intuitively chosen rune crystal inside. * New vessels as of 9/8/23, black matte w/ black interior. 
Probably my favorite overall
I must have purchased this candle at least a half dozen times over the past couple of years. The combination of scents in this candle mix so perfectly to create such a warm and inviting atmosphere. If I had to pick one favorite among all of Odin's candles, this would be the one.