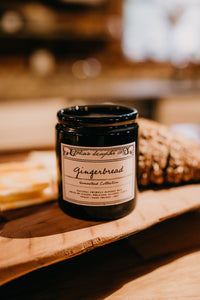 As cold fills the air, hot baked treats fill the oven. One of our favorites this time of year is toasty gingerbread. Enjoy the warmth and comfort of the kitchen as we pull fresh baked gingerbread out of the oven to cool.
The smells of ginger, molasses, nutmeg, and clove fill the homestead, making us curl up with blankets in front of the fire for a peaceful winter day. 

 —
Vessel: Black Ceramic
Lid: Black metal
Volume: 8 oz / 226.8g
Burn Time: 60+ hrs
All candles are handcrafted with crackling custom cut wood-wicks, phthalate free scent moods using a mixture of fragrance + essential oils, and all natural coconut blended wax.
Our candlelight is ritually hand-poured + packaged in small batches in North Carolina.
Vegan | Hand-poured | Small Batch | Winter Homestead Collection