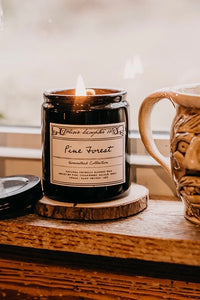 Inspired by the land we live on, won't you enjoy the property with us, buried deep in the woods of North Carolina.

Let the scents of Pine, Cedarwood, Balsam, and Moss make you forget your worries and guide you down the trail to a rocking chair on the porch.
 —
Vessel: Black Ceramic
Lid: Black metal
Volume: 8 oz / 226.8g
Burn Time: 60+ hrs
All candles are handcrafted with crackling custom cut wood-wicks, phthalate free scent moods using a mixture of fragrance + essential oils, and all natural coconut blended wax.
Our candlelight is ritually hand-poured + packaged in small batches in North Carolina.
Vegan | Hand-poured | Small Batch | Winter Homestead Collection