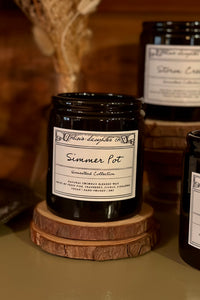 Our Simmer Pot candle offers a sensory experience with its fragrant notes of fresh pine, cranberry, citrus, and cinnamon.
As it burns, the wax melts into a simmering pot, releasing a soothing aroma that enhances any space. Handcrafted with carefully selected scents of the season, it creates a warm and inviting atmosphere, perfect for relaxation, and enhancing joy into your home.

Scent Profile: Fresh pine, cranberry, citrus, cinnamon
 —
Vessel: Black Ceramic
Lid: Black metal
Volume: 8 oz / 226.8g
Burn Time: 60+ hrs
All candles are handcrafted with crackling custom cut wood-wicks, phthalate free scent moods using a mixture of fragrance + essential oils, and all natural coconut blended wax.
Our candlelight is ritually hand-poured + packaged in small batches in North Carolina.
Vegan | Hand-poured | Small Batch | Fall Homestead Collection