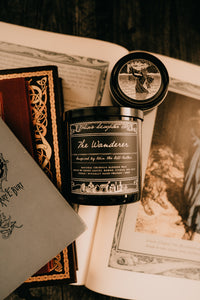 THE WANDERER; inspired by Odin the All-Father. He walks amongst us learning all this world may offer him. The four elements encompass his travels.
We have been called by him to bring the wisdom to help you on life's journey, as each candle includes a special rune! 
Scent profile: Green leaves, Ozone (air), Citrus, Sea Salt
 —
Vessel: Matte black 
Volume: 10oz
Burn Time: 60+ hrs
All candles are handcrafted with crackling wood-wicks, phthalate free scent moods using a mixture of fragrance + essential oils, and all natural coconut blended wax.

Our candlelight is ritually hand-poured + packaged in small batches in North Carolina.

Vegan | Hand-poured | Small Batch | Bestselling Ritual Collection
Please note: *As of 7/18/23, the design of this candle has changed to black shimmer wax, custom cut wood-wicks, with an intuitively chosen rune crystal.* New vessels as of 9/8/23, black matte w/ black interior.