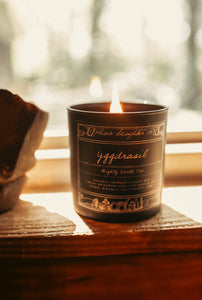 Whether god or mortal, all paths lead through the mighty world tree, Yggdrasil with notes of dampen dirt, pine needles, fir. Light our candle to embrace the uniting of all nine worlds + feel the gods surround you.
 —
Vessel: Matte black 
Volume: 10oz
Burn Time: 60+ hrs
All candles are handcrafted with crackling wood-wicks, phthalate free scent moods using a mixture of fragrance + essential oils, and all natural coconut blended wax.
Our candlelight is ritually hand-poured + packaged in small batches in North Carolina.
Vegan | Hand-poured | Small Batch | Bestselling Ritual Collection
 Please note: *As of 7/18/23, the design of this candle has changed to black shimmer wax, custom cut wood-wicks, with an intuitively chosen rune crystal inside. * New vessels as of 9/8/23, black matte w/ black interior. 
This candle is a gift to the universe
I lit this candle while I was putting up my winter decorations and was floored at how well the scent filled the entire space. My whole family has been enchanted by this candle. I burned it all day on the first day I used it and it went down only a fraction of an inch. I'm about to buy 3 more (2 as gifts and another one for me!) and I'll definitely be buying more scents.