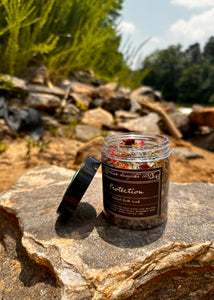 Protection ritual bath soak uses ancient spell ingredients like dead sea salt, black lava sea salt, dried eucalyptus, rose petals, mint and mugwort for you to have convenient access to cast your own spell of protection in your tub.

This mixture is based on ancient herbs and salt used to relax your body as you cover yourself in protection.

-
Place desired amount in the accompanying bag and place inside bath water to enjoy the effects of our ritual bath soaks. 
If you don't have a bath, or prefer showers hang ritual bag from shower faucet. 
8oz, + black sheer bag.