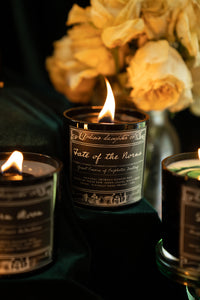 They are the ones who form our life thread. The strength, the length, and when it shall be cut. They form our lives and watch us intensely. We recognize and respect their power, for not even the gods can change the decisions of the Norns.
 Scent profile: Fresh dew, Green leaves, White roses
—
Vessel: Matte black 
Volume: 10oz
Burn Time: 60+ hrs
All candles are handcrafted with crackling wood-wicks, phthalate free scent moods using a mixture of fragrance + essential oils, and all natural coconut blended wax.

Our candlelight is ritually hand-poured + packaged in small batches in North Carolina.

Vegan | Hand-poured | Small Batch | Bestselling Ritual Collection
Please note: *As of 7/18/23, the design of this candle has changed to black shimmer wax, custom cut wood-wicks, with an intuitively chosen rune crystal inside.* New vessels as of 9/8/23, black matte w/ black interior.