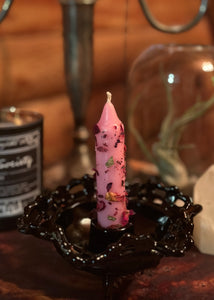 Our spell candles are blessed and dressed by hand with intention listed, and sold in pairs to serve your specific purpose. Candles are dressed with our ritual oil and herbal blends for intention, and we recommend to use with white cotton cords, and mini note paper to send your message to the gods. 
Tie note around candle three times and light your candle with intention in mind, saying it out loud to bring about what you desire.
Please use proper candle holder and watch flame for safety. Do not leave candles unattended, and keep out of reach of children and animals. 
Set of two, candles measure 4" by .5"