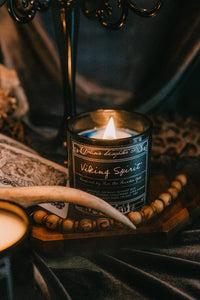 This is not just a candle. This is the wind on your face as you rush against the sea. This is the clash of swords + the smoke of fire. This is the blood that ran through our ancestors veins. The blood that flows through our veins. When the ravens wings flutter + the thunder crashes through the sky, we know the Gods are with us. We know when mighty Thor bangs his hammer, he pushes us forward, he gives us his strength. 
Scent profile: oak, cypress, cedarwood, aged juniper. 
—
Vessel: Matte black 
Volume: 10oz
Burn Time: 60+ hrs
All candles are handcrafted with crackling wood-wicks, phthalate free scent moods using a mixture of fragrance + essential oils, and all natural coconut blended wax.

Our candlelight is ritually hand-poured + packaged in small batches in North Carolina.

Vegan | Hand-poured | Small Batch | Bestselling Ritual Collection
Please note: *As of 7/18/23, the design of this candle has changed to black shimmer wax, custom cut wood-wicks, with an intuitively chosen rune crystal inside.* New vessels as of 9/8/23, black matte w/ black interior.